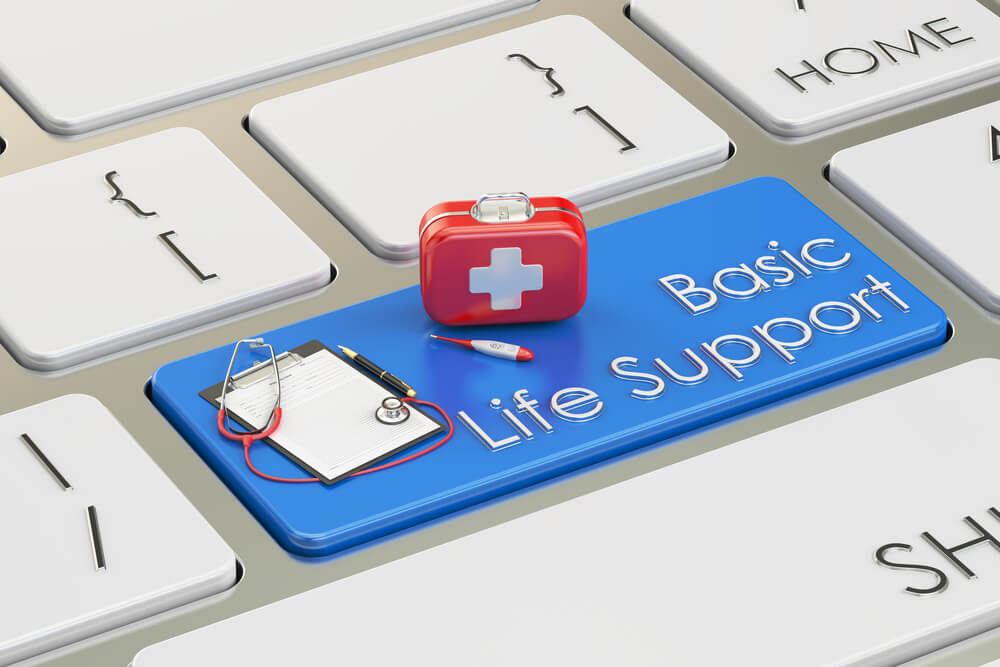 Is BLS the Same as CPR and First Aid?
If you are looking to get a life-saving certification, there are different courses you will need to take. The courses will depend on whether you are a healthcare professional or not. Different life-saving courses include CPR, first aid, and BLS. Read on to find out how the three differ.
The acronym BLS stands for Basic Life Support. BLS usually refers to a type of course that first responders and health care professionals take. The course teaches professionals advanced skills for recognizing life-threatening emergencies and responding to them. Basic Life Support training includes the fundamentals of CPR; students learn high-quality techniques for chest compressions and rescue breathing. They also learn about administering aid to those who are choking.
What Does a Basic Life Support Class Include?
A quality BLS course will follow the guidelines of the American Safety and Health Institute and the American Heart Association for CPR. The course will teach students how to recognize the signs of cardiac arrest and then how to respond to those different situations.
Does BLS include CPR? It does. The important difference here, though, is that a CPR course meant for lay responders will teach different skills than a course meant for health care professionals, like Basic Life Support. In a BLS course, you will learn more techniques. 
For example, in a BLS course, students learn how to use an Automated External Defibrillator (AED). They will learn the safety precautions to avoid injury. Students also learn what to watch for so they can be sure they're using the AED to the best benefit of the person they're helping. 
A BLS course will cover what you need to know for children, infants, and adult CPR procedures. The course will go into great detail about performing the highest quality of chest compressions, including the appropriate compression rates. It will also cover ventilation techniques. 
In Basic Life Support, students learn how to help patients while also covering the essentials for personal protective equipment. Students learn how to use breathing barriers and bag valve masks so everyone stays safe. 
During a cardiac arrest emergency, there is an increased risk of improper circulation to vital organs. A BLS course will teach students how to recognize the signs of this and how to properly respond. 
Choking victims are sometimes conscious and sometimes unconscious. The course teaches you how to respond to both situations. 

What Is the Difference Between BLS and CPR?
The basic difference between these two courses is who the intended students are. Health care professionals, like first responders, nurses, medical doctors, and dentists, need different skills than a lay responder. 
People who don't work in the healthcare industry aren't as likely to come into a situation where they need life-saving skills. A CPR course puts them in a situation where if they happen upon someone experiencing cardiac arrest, they will recognize the situation and be able to respond while also calling 911. 
If everyone knew basic CPR skills, the world may be a safer place as more people in cardiac arrest would get help sooner. A CPR course will cover the basics the average person needs to know in order to be the most useful until a first responder can arrive. 
People who work in the healthcare industry will be putting their skills to use more often. They are more likely to see a patient in a serious health crisis. For example, a dentist may have a patient with a severe allergic reaction to a medication. A nurse is likely to work with patients who come to the hospital because they don't feel well, even if those patients don't yet realize they are in cardiac arrest. 
Health care professionals need to watch for patients in need at a more advanced level because they are more likely to run into these situations. This requires appropriate training. A Basic Life Support course is the right choice for many medical professionals in need of these skills.
Because of this, a Basic Life Support course covers more details on what to watch for, specific to the types of injuries students are likely to encounter. The course covers more advanced techniques and skills and the appropriate use of certain equipment. 
A Basic Life Support course also puts more focus on working in teams. As a healthcare professional, there will be other trained people around who can get involved in addressing the emergency situation. A BLS course can teach students how to split up tasks in an emergency situation. The course also focuses on how to appropriately communicate needed information with 911 and first responders. 
So, in summary, what is the difference between BLS and CPR? A Basic Life Support course includes more advanced techniques and is complete with the training needed for healthcare professionals. A CPR course trains nonmedical professionals. 

Does BLS Include CPR? 
Yes, a Basic Life Support class and certification includes the basics of CPR. A Basic Life Support course covers CPR on a more advanced level, and it's meant for health care professionals who will need these skills more often. 
Is BLS and CPR the Same as First Aid?
The difference between CPR and first aid is in the types of emergencies you're trained to treat. Basic Life Support and CPR are not the same as first aid. 
In a first aid course, students learn to treat a variety of different types of emergent injuries. With first aid, students learn how to respond to cuts and even bone fractures. At the same time, you'll learn how to help someone who is choking. First aid courses are normally for the average person who doesn't need to help people in life-threatening situations on a regular basis. 
In a CPR course, the focus is on helping someone in cardiac arrest. You will learn how to offer cardiovascular life support with chest compressions and ventilations. A CPR course is the right choice for many people who don't work in the healthcare industry. While a CPR course covers the basics that healthcare professionals need to know, they often need something more advanced. Generally, professionals choose a course like BLS, which is better suited to their needs.
What does it mean that a Basic Life Support course is more advanced? It just means that a BLS course covers cardiovascular life-support skills similar to a CPR course but at a more advanced level for medical professionals.
Every day, BLS-certified professionals treat patients on the scene so that they get the care they need while waiting for first responders to arrive. Are you BLS-certified? Has this information been helpful? To learn more about BLS certification, call our office or schedule an appointment on our website today.